EDISON MOTORS TO BE FEATURED AT FULLY CHARGED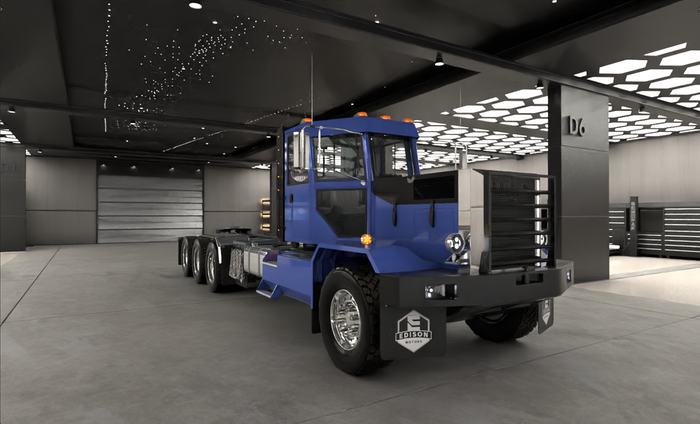 Edison Motors is a privately owned company that that is "built by truckers, for trucker." Founders Eric Little and Chace Barber entered business in 2016 after graduating university together. Their first restoration project was a 1939 Kenworth. However, as business continued to grow frustration in the serviceability of newer models of trucks began to build. Little and Barber then took it upon themselves to start rebuilding older trucks to use in their own trucking operations instead of purchasing new ones.
Into 2019, Edison Motors was beginning to install power generation systems and taking on the role of engineering and designing off-grid solar hybrid power systems. After their first successful project design and construction of a First Nation's community in Northern BC, Eric and Chace started the engineering process of diesel-electric semi-trucks using the same principles.
By the time 2021 came around, they were building their own electric trucks. By building their own electric trucks, they ended up designing a more robust truck that was tailored to the logging and heavy vocational industries Edison Motors was operating in. The results of taking matters into their own hands has been them creating the most driver-friendly, easiest to service, electric trucks ever made.
In preparation for the Fully Charged LIVE show, Edison Motors is in the midst of building a fully functional electric truck that they will be showcasing at the event. View the TikTok video here to see them explain the process. Their TikTok channel, where you will see Little and Barber talk about all thing's trucks, has gained huge momentum, and has reeled in over 6 million likes across their educational videos.
"This event is a huge opportunity for us to show how Edison Motors can be part of the solution and a greener, cleaner transportation system," says Little. "Our goal is not only to be a part of a greener movement, but also to show that there is always room to repair trucks or their components instead of replacing them because that only contributes more waste to our planet."
"Our goal is to educate the audience when we take to the stage in September. We're so excited to be given the opportunity to show viewers that we can all take steps to reduce our carbon footprint," says Barber. "Our team is constantly learning and finding new ways to be build more efficient and greener semi-trucks."
Over 97% of trucks on the road are powered by diesel creating a huge concern when it comes to the amount of pollution they expel into the air. In fact, one single truck emits the NOx (nitrogen oxides) equivalent of 100 cars for each mile it is driven. The World Health Organization (WHO) classifies diesel exhaust as carcinogens to humans and creates ground-level ozone pollution. With the carbon footprint of an average truck being 223 tons of carbon dioxide, the benefits of shifting towards an electric semi-truck seems colossal. That's where Edison Motors is stepping in.
The aim for the Edison team is to have the reliability and serviceability of a classic semi but with the efficiency, power, and emission standards of an electric truck. These trucks can run 2-3 hours off the batteries installed and generators are able to recharge the batteries in 30-45 minutes.