08 Aug 2023
Win Big with SC Carts at Fully Charged LIVE Canada in Vancouver September 8-10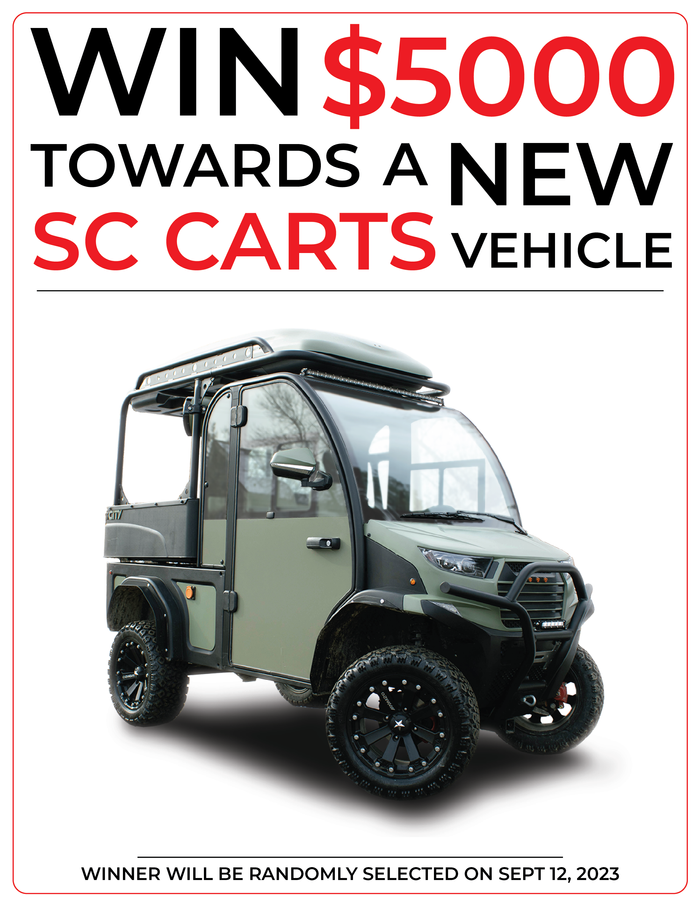 Win $5000 towards a new SC Carts Vehicle!
**Experience the Future of Sustainable Transportation:**
Fully Charged LIVE Canada attendees are in for an electrifying experience as SC Carts unveils its innovative fleet of LSVs, designed to redefine urban mobility. From stylish commuters to versatile utility vehicles, each model is a testament to SC Carts' dedication to excellence in design, performance, and sustainability.
**The Ultimate Test Drive Experience:**
Visitors will have an exclusive opportunity to take two of SC Carts' exceptional LSV models for a spin during the event. These test drives will provide attendees with firsthand experience of the vehicles' comfort, power, and versatility, highlighting their potential for various everyday activities.
**Introducing the $5000 Voucher Giveaway:**
As the highlight of this year's Fully Charged LIVE Canada, SC Carts proudly introduces a game-changing contest that could put attendees in the driver's seat of an incredible opportunity. During the event a thrilling draw will be held, giving one lucky participant the chance to win a remarkable $5000 voucher toward the purchase of a new SC Carts vehicle.
**Stack Up the Savings:**
Pairing this incredible voucher opportunity with the CleanBC rebate available on all of SC Carts' LSV models, attendees have the potential to save an astonishing $7000 on their vehicle purchase. This rare chance to maximize savings while embracing sustainable transportation underscores SC Carts' commitment to making eco-friendly travel accessible to all.
**Don't Miss Your Shot:**
Fully Charged LIVE Canada offers attendees an unrivalled chance to be a part of the future of sustainable urban transportation. Join SC Carts from September 8th to 10th in Vancouver to explore the remarkable LSVs, enjoy exhilarating test drives, and most importantly, enter the contest that could revolutionize your daily commute.
For more information about SC Carts, the exciting Fully Charged LIVE Canada contest, and our participation in the event, please visit www.sccarts.ca or contact 250-545-8559.
About SC Carts:
SC Carts is a pioneering Canadian manufacturer specializing in street legal Low-Speed Vehicles (LSVs). With an unwavering commitment to innovation, sustainability, and superior design, SC Carts' vehicles are designed to revolutionize urban transportation. Our LSVs seamlessly combine style, functionality, and eco-friendliness, making them the perfect choice for everyday use.
Media Contact:
marketing@sccarts.ca