ENVO Stax Electric Road Bike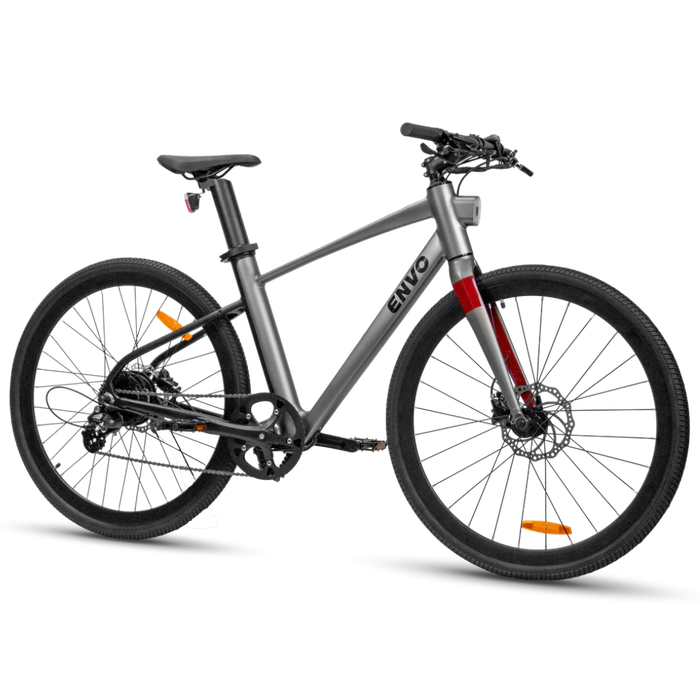 Rides and Feels like a normal bike.
ENVO stax is an electric bicycle that is designed to provide a natural and familiar riding experience akin to a traditional bicycle, it is designed for a crowd looking for a sporty ride. A crowd looking for the lightest bike possible that can easily be carried around in condo staircases, public transits and more; yet looks and behave like a regular bike in order to whip around the city. ENVO Stax puts aesthetic and pleasure first, yet does not sacrifice on motor performance and our beloved torque emulation software. Furthermore, it uses a 461Wh battery that is hidden away inside the seatpost, it made it much easier to disguise this eBike as a regular bike.
Race Inspired Geometry
The geometry has been optimized to offer a sporty position and maximize power output from the rider. The rigid fork brings agile steering and increased road feel compared to our ebikes with suspension fork. The frame has also been designed around 40mm wide tires, which have little rolling resistance, but enough traction and puncture resistance. All this makes it a perfect bike to use on any road.
Premium, Yet Affordable
The ENVO Stax is an electric bicycle that offers premium features and specifications, yet is priced affordably, making it accessible to a wider range of riders. Despite its affordable price point, the ENVO Stax boasts a high-quality build, advanced components, and exceptional performance. It provides riders with a comfortable, efficient, and enjoyable riding experience that rivals that of much more expensive e-bikes.
Streamlined Design
Stax is designed to stylish and streamlined, all the welds are smoothened, headlight is directly integrated in the bike frame, and all the cables are hidden and routed internally.
42 lbs! That's it
The ENVO Stax is the lightest bike in its category, boasting a cutting-edge design and premium materials. Our engineers optimized every aspect of the bike, creating an unparalleled ride that's fast, responsive, and efficient.
500W! Twice as much as an Olympic cyclist
The ENVO Stax electric bike is capable of generating a whopping 500W of power, which is twice the output of an Olympic cyclist. This allows the rider to accelerate faster, tackle steeper hills, and travel longer distances with less effort.
Proudly Canadian
Discover the best in electric micromobility with ENVO, a Canadian company specializing in locally designed products providing you with convenience, affordability, and sustainability for all your needs.