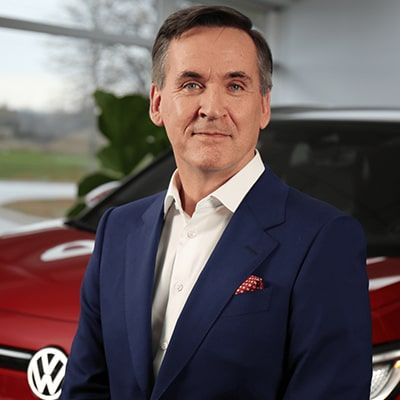 Pierre Boutin
President & CEO
,
Volkswagen Group Canada
Pierre Boutin is President and Chief Executive Officer of Volkswagen Group Canada Inc., comprising the businesses of Volkswagen Canada, Audi Canada Inc. and the distribution of Automobili Lamborghini Canada. He is responsible for overseeing an organization of roughly 400 employees supporting 200 dealerships. He is a member of the Regional Board of Management of Volkswagen Group of North America, Board of Directors of Volkswagen Credit Canada Inc., and of Electrify Canada.
Pierre is a Canadian citizen who is fluent in both English and French. He holds a Bachelor of Commerce degree with a specialization in Marketing from Université Laval. He has extensive international experience as Head of Volkswagen France leading the organization to its best performance in the past decade, and prior to that as Head of Volkswagen Russia where he led the brand through its most severe crisis securing viability and future investments. Most recently, he has achieved an important turnaround of the Canadian operations and has contributed to secure strategic investments in battery manufacturing to support the growth of the Volkswagen Group business in North America.
Prior to joining Volkswagen, Pierre had Domestic and International leadership roles with Ford and Nissan including Managing Director of Central & Eastern Europe and of Nissan West Europe SAS.
Pierre is married and has two children.